The United Kingdom Historic Building Preservation Trust's plans for the Whitechapel Bell Foundry
For more information about the United Kingdom Historic Building Preservation Trust and Factum Foundation's plans for the Whitechapel Bell Foundry, please go to www.ukhbpt.org and www.factumfoundation.org
In July 2019 Banco Santander released a video about their relationship with Factum "A story of how Santander is changing the way banks and companies work". https://youtu.be/9oLoj4mPF9Y
For all press and media enquiries about our campaign and plans please email: news@ukhbpt.org

Why the Raycliff planning application to turn the Whitechapel Bell Foundry into a boutique hotel should be rejected. Application PA/19/00008/A1
There is a perfectly viable proposal put forward by the United Kingdom Building Preservation Trust together with its partner, Factum Foundation to continue to operate a full-scale working foundry. This proposal has a credible business plan, experienced management and funding available. The trust has done this before to great success. Support for this proposal will ensure that Whitechapel retains one of London's finest craft facilities in the world, adding to the cultural and artistic value of Whitechapel for years to come.
This speculative and inappropriate change of use for the foundry as proposed by the developer must be rejected.
Whitechapel Bell Foundry is Britain's oldest continuous business established in the 1570's. Given this unique status the foundry is listed grade2*.
Whitechapel Bell Foundry is a global British brand and a part of London's rich cultural heritage and Whitechapel's DNA.
In June 2017 the foundry was deliberately closed despite an offer in March 2017 from the United Kingdom Building Preservation Trust to acquire the foundry at its market value. This offer was rejected and the foundry closed in June 2017 solely to enable a developer to seek a change of use and redevelop the site.
There is no market evidence to demonstrate that a foundry cannot continue to operate on the Whitechapel site as it has done for hundreds of years. Refusing to sell the foundry as a working foundry is not evidence, it is cultural vandalism.
The continuous use as a foundry is the optimum viable use and the right use for this unique site. ALL alternative uses should be rejected.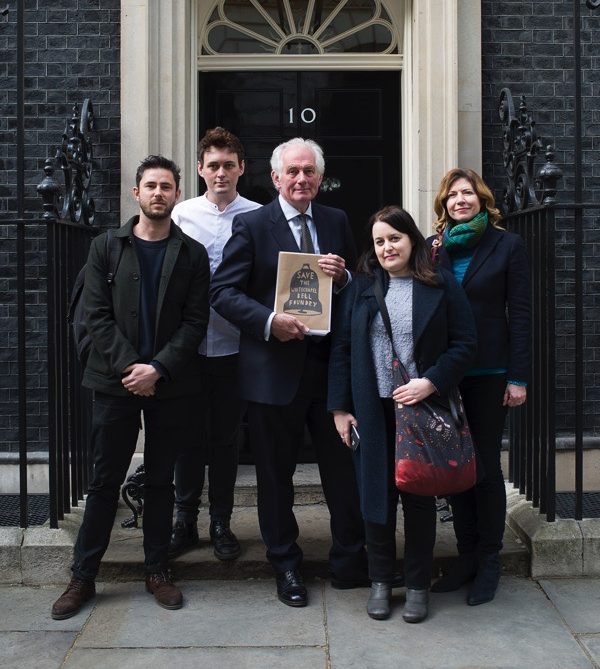 Notwithstanding these fundamental points there are additional reasons why a boutique hotel with a private members club and rooftop swimming pool should be rejected.
The local population are overwhelmingly against this proposal. Some 20,000 people have signed the petition against the development. Community groups such as Spitalfields Trust, the East End Preservation Society and the East End Trades Guild all support saving the Whitechapel Bell Foundry.
The neighbouring East London Mosque was not consulted by the developer and considers the scheme proposed to be wholly inappropriate. The mosque wishes to see a rejuvenated foundry neighbour with whom they can build skills and training partnerships for the local community.
The suggestion that the scheme includes a reinstatement of a working foundry is tokenism. The concept of a working foundry on 12% of the original foundry site placed alongside a café is simply unworkable and with considerable health and safety risks. Founding bells and brewing coffee in the same area is not sensible and will not happen.
The scheme contradicts the Council's 'Whitechapel Vision Rejuvenation Prospectus' and the GLA's 'Thames Estuary Production Corridor'.
Where to send your objection
You can write an email to planningandbuilding@towerhamlets.gov.uk or you can send a letter to Town Planning, Town Hall, Mulberry Place, 5 Clove Crescent, London, E14 2BG. Be sure to include your postal address and the application reference PA/19/00008/A1
Sign our petition on change.org and follow our twitter account for campaign updates.